A "Small Vessel of Brisk Bostoneers": The Life and Times of the Massachusetts Province Sloop Mary, c. 1688-1693
Keywords:
Anglo-American provincial naval forces, Massachusetts Bay Colony, Dominion of New England, British Empire, Glorious Revolution
Abstract
In the late seventeenth century, the Massachusetts Bay Colony's government built its own provincial navy of several vessels to secure its coastline from French, Indigenous, and piratical threats. While the creation of provincial navies would become a regular hallmark of English colonization throughout the Atlantic world, this fleet's flagship – the sloop Mary – and its crew would become major players in various transatlantic dramas ranging from the Glorious Revolution to the Golden Age of Piracy to the Salem Witchcraft Trials. Overall, Mary's short service history not only gives us a novel maritime lens through which we can examine traditionally-well studied events in early American history, but also highlights the long-ignored role of Anglo-American provincial naval forces in shaping the first British Empire.
À la fin du dix-septième siècle, le gouvernement de la colonie de la baie du Massachusetts a construit sa propre marine provinciale de plusieurs navires pour protéger ses côtes contre les menaces posées par les Français, les Autochtones et les pirates. Alors que la création de marines provinciales allait devenir une caractéristique de la colonisation anglaise dans le monde de l'Atlantique, le navire amiral de cette flotte – le sloop Mary – et son équipage allaient devenir des acteurs importants dans divers drames transatlantiques, y compris la Glorieuse Révolution, l'Âge d'or de la piraterie et les procès des sorcières de Salem. Dans l'ensemble, la courte histoire de service maritime du Mary nous offre non seulement une nouvelle optique maritime à travers laquelle il est possible de considérer les événements traditionnellement bien étudiés des débuts de l'histoire américaine, mais elle souligne également le rôle longtemps ignoré des forces navales provinciales anglo-américaines dans la formation du premier Empire britannique.
References
Bahar, Matthew R. Storm of the Sea: Indians & Empires in the Atlantic's Age of Sail. Oxford: Oxford University Press, 2019.
Baker, Emerson W. A Storm of Witchcraft: The Salem Trials and the American Experience Oxford: Oxford University Press, 2014.
Baker, Baker, Emerson W. and John G. Reid. The New England Knight: Sir William Phips, 1651-1695. Toronto: University of Toronto Press, 1998.
Baker, William Avery. "Vessel Types of Colonial Massachusetts," in Collections of the Colonial Society of Massachusetts, Vol. 52: Seafaring in Colonial Massachusetts, edited by Frederick S. Allis, Jr. Colonial Society of Massachusetts. https://www.colonialsociety.org/node/1977
Breen, Louise A. Transgressing the Bounds: Subversive Enterprises among the Puritan Elite in Massachusetts, 1630-1692. Cary: Oxford University Press, 2001.
Chadwick Foster Smith, Philip. "King George, The Massachusetts Province Ship, 1757-1763: A Survey." In Collections of the Colonial Society of Massachusetts, vol. 52: Seafaring in Colonial Massachusetts (March 1980), edited by Frederick S. Allis, Jr., pp. 174-197. Colonial Society of Massachusetts. https://www.colonialsociety.org/node/1989#ch08.
Chapin, Howard M. The Tartar: The Armed Sloop of the Colony of Rhode Island, in King George's War. Newport: Rhode Island Society of Colonial Wars, 1922.
Chapin, Howard M. Privateer Ships and Sailors: The First Century of American Colonial Privateering, 1625-1725 Toulon: Imprimerie G. Mouton, 1926.
Chapin, Howard M. "New England Vessels in the Expedition against Louisbourg, 1745," The New England Historical and Genealogical Register, Vol. LXXVI (January 1922), pp. 59-60.
Douglas, W.A.B. "The Sea Militia of Nova Scotia, 1749-1755: A Comment on Naval Policy." The Canadian Historical Review, Vol. 47, No. 1, (March 1966), pp. 22-37. Project Muse, muse.jhu.edu/article/568408
Dull, John R. American Naval History, 1607-1865: Overcoming the Colonial Legacy. Lincoln: University of Nebraska Press, 2012.
Dunn, Richard S., "The Glorious Revolution and America." In Origins of Empire: British Overseas Enterprise to the Close of the Seventeenth Century, edited by Nicholas Canny. Oxford: Oxford University Press, 2000. 445-457.
Edmonds, John Henry, Captain Thomas Pound. Cambridge: John Wilson and Son, 1918.
Franklin, Thomas, Ipswich in the Massachusetts Bay Colony. Ipswich, Mass.: The Ipswich Historical Society, 1905.
Hanna, Mark. Pirate Nests and the Rise of the British Empire, 1570-1740. Chapel Hill: University of North Carolina Press, 2015.
Hattendorf, John. Talking About Naval History: A Collection of Essays. Pittsburgh: United States Government Printing Office, 2012.
Herson, James P., Major. A Joint Opportunity Gone Awry: The 1740 Siege of St. Augustine. Fort Leavenworth: United States Army Command and General Staff College, 1997.
Hitchings, Sinclair. "Guarding the New England Coast: The Naval Career of Cyprian Southack." In Collections of the Colonial Society of Massachusetts, Vol. 52: Seafaring in Colonial Massachusetts, edited by Fred Allis, Jr., Colonial Society of Massachusetts,
https://www.colonialsociety.org/node/1981
Leach, Douglas Edward. Roots of Conflict: British Armed Forces and Colonial Americans, 1677-1763. Chapel Hill: The University of North Carolina Press, 1986. Kindle eBook edition.
Lincoln, Waldo. The Province Snow: "Prince of Orange." Worcester: Charles Hamilton, 1901.
Lipman, Andrew. The Saltwater Frontier: Indians and the Contest for the American Coast. (New Haven: Yale University Press, 2015).
Lustig, Mary Lou. The Imperial Executive in America: Sir Edmund Andros, 1637-1714 Madison: Fairleigh Dickinson University Press, 2002.
Magra, Christopher P. Poseidon's Curse: British Naval Impressment and Atlantic Origins of the American Revolution. Cambridge: Cambridge University Press, 2016.
Manwaring, G.E. "The Dress of the British Seaman: From the Revolution to the Peace of 1748," The Mariner's Mirror (January 1924): 31-48. https://doi.org/10.1080/00253359.1924.10655255
Marley, David F. Pirates of the Americas, Vol. I. Santa Barbara: ABC-CLIO, 2010.
McConaghy, Lorraine. Warship under Sail: The USS Decatur in the Pacific West. University of Washington Press, 2009.
Miles, William R. The Royal Navy and Northeastern North America, 1689-1713. Unpublished Master's Thesis. Halifax, Nova Scotia: Saint Mary's University, 2000.
Norton, Mary Beth. In the Devil's Snare: The Salem Witchcraft Crisis of 1692. New York: Vintage Books, 2002.
Peckham, Howard. The Colonial Wars, 1689-1762. Chicago: The University of Chicago Press, 1963.
Rediker, Marcus and Peter Linebaugh. The Many-Headed Hydra: The Hidden History of the Revolutionary Atlantic. Boston: Beacon Press, 2000. ProQuest Ebook Central
Reed, Phillip, The Merchant Ship in the British Atlantic, 1600-1800: Continuity and Innovation in a Key Technology. Boston: BRILL, 2020.
Sarvis, Michael J. Cedars, Sloops and Slaves: The Development of the Bermuda Shipbuilding Industry, 1680-1750. Masters Thesis, (Williamsburg: College of William and Mary, 1992). https://dx.doi.org/doi:10.21220/s2-j5qa-2a98.
Stanwood, Owen. The Empire Reformed: English America in the Age of the Glorious Revolution. Philadelphia: University of Pennsylvania Press, 2013.
Swanson, Carl E., Predators and Prizes: American Privateering and Imperial Warfare, 1739-1748. Columbia: University of South Carolina Press, 1990.
Tapley, Harriet Silvester. The Province Galley of Massachusetts Bay, 1694-1716: A Chapter of Early American Naval History. Salem: Repr. Historical Collections of the Essex Institute, Vol. LVIII, 1922.
Zelner, Kyle F. A Rabble in Arms: Massachusetts Towns and Militiamen During King Philip's War. New York: New York University Press, 2009.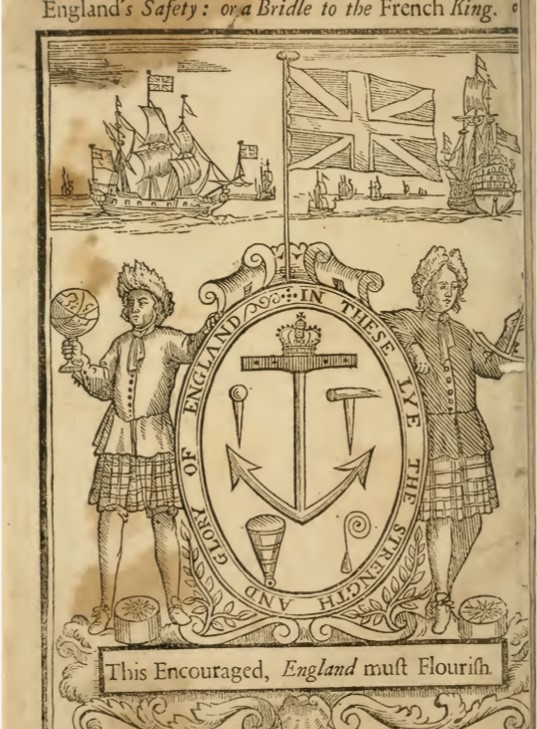 Downloads
How to Cite
Schaffer, B. (2023). A "Small Vessel of Brisk Bostoneers": The Life and Times of the Massachusetts Province Sloop Mary, c. 1688-1693 . The Northern Mariner Le Marin Du Nord, 33(1), 1–26. https://doi.org/10.25071/2561-5467.1080